Polar Resource Book Project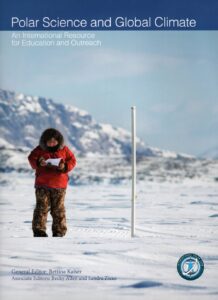 Online Version of Polar Science and Global Climate: An International Resource for Education and Outreach
Now almost a decade old, Polar Science and Global Climate: An International Resource for Education and Outreach - The Polar Resource Book - was created to ensure efforts catalyzed by the International Polar Year (IPY 2009). Originally published by Pearson in paperback, it will continue to inspire educators, students, and emerging polar researchers into the next generation with a shared commitment to outreach and education on-line.

Polar Educators International, the Association of Polar Early Career Scientists, International Arctic Science Committee and the Scientific Committee on Antarctic Research are teaming up to make the Polar Resource Book more widely accessible on the Polar Educators International website.
Together we will work with users, experts and contributors to share and review the Polar Resource Book resources and build a more accessible, accurate, inclusive and up-datable resource with the same goals as the original, for emerging cohorts of polar scientists, educators, communicators and learners!
Learn more about PEI's role in the Polar Resource Book project