Expedition Arctic: Canadian Museum of Nature and Students on Ice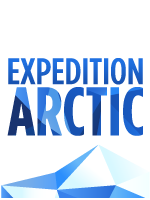 Check out the new project here. 
Students on Ice and the Canadian Museum of Nature recently launched a virtual online expedition through the Arctic called Expedition Arctic: http://expeditionarctic.ca/
This is an educational site that features scientists from the Canadian Museum of Nature along with 2 students from the 2012 SOI Arctic Expedition and SOI's Founder and Expedition Leader Geoff Green who takes you on a virtual journey through the Arctic.  
Ottawa, January 8, 2014—A new educational Web site launched today by the Canadian Museum of Nature and Students on Ice, in partnership with the Virtual Museum of Canada, shows that there is truly more to the Arctic than meets the eye! ExpeditionArctic.ca is a bilingual online project aimed at youth aged 14 to 29. It follows four experts with the Canadian Museum of Nature and two teenage participants during an expedition to Canada's Eastern Arctic and western Greenland.
The Web site is peppered with documentary HD videos, interactive maps, gorgeous landscapes, colourful photos, and blog posts that enliven this journey of discovery to reveal some of the plants, wildlife, people and fossils associated with the Arctic. The site also features in-depth profiles of 28 specimens from the Canadian Museum of Nature's world-class Arctic collections.
"We're delighted to share the results of a collaborative web initiative focussed on a fascinating and significant part of our planet," says Meg Beckel, President and CEO of the Canadian Museum of Nature. "ExpeditionArctic.ca reflects the museum's expertise in the study of Canada's Arctic, and we hope it will inspire young people to learn more about the North."
The content for the site was gathered during a July 2012 expedition to the Arctic organized and led by Students on Ice and its founder and Expedition Leader Geoff Green. The four museum experts, who specialize in the study of plants, fossils, mammals and algae, are shown sharing their passion for science and the Arctic as they are followed by a documentary team from Habitat Seven.
The youth point-of-view is provided by two teens, Dang-Dang Gruben from Inuvik, Northwest Territories, and Marine Poirier-Defoy from Gatineau, Quebec. All were part of the larger expedition team that included about 110 Canadian and international youth, elders, artists, scientists, musicians and inspirational leaders.