I love to venture into the outdoors and explore; hiking, backpacking and camping, while adhering to the rule, "Leave no trace." I pick up trash, including that of others, and my dog waste. I do my best to stay on maintained trails and not destroy the fragile life outside of them. When leaving a campsite, I comb over the site removing any traces of my presence. I strive to leave the outdoors better than when I found it. I feel satisfied that I have made the world a bit better. But have I?
The global pandemic received the majority of our attention in 2020, but it was also the year of catastrophic wildfires across the globe. Wildfire losses ranked as the fifth most expensive, with record-breaking fires in Australia, the Arctic, Brazil, and the western United States.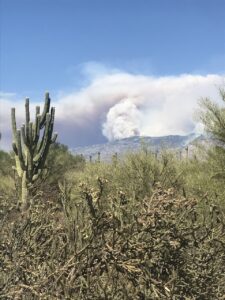 During the pandemic-induced isolation, my husband and I watched from home as our beloved Catalina Mountains in Tucson, Arizona burned from early June to mid-July. Every morning the smoke settled into our valley. A dry lightning strike on June 5th, started the fire near our favorite hiking trail, 8 miles from our home. Fueled by extreme heat, high winds, and invasive grasses, the fire moved up in elevation and across the entire mountain range, destroying 120,000 acres. This is approximately the land area of Manhattan, Brooklyn, and 40% of Queens in New York City. At the lower elevations, in the Sonoran Desert biome, we lost many of our iconic saguaro cactus that only exist in Southern Arizona and Northern Mexico. It takes 30 years for these cactus to reach a height of 5 feet and many were well over 150 years old. At the higher elevations, aspen trees will replace the slower growing conifers. We were fortunate that due to the location of the fire and the hard work of the fire crew, that there was no loss of human life or buildings. That was not true of so many other fires across the globe this past year.
Drought continued for us in Tucson with the 2020 going into the record books as the driest year in our 126-year climatic record. Officially, we received only 4.17" (105.9 mm) of rain in 2020. This prevented flash flooding from the burned areas that could have created more devastating losses. With the small amount of rain we did receive, there was a slurry of ash flowing in our washes and along my favorite hiking trail.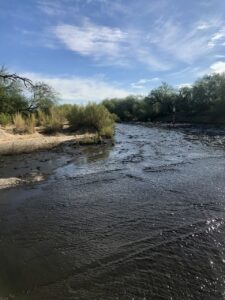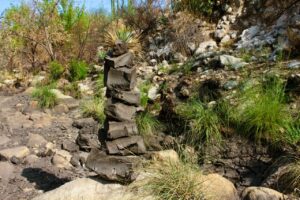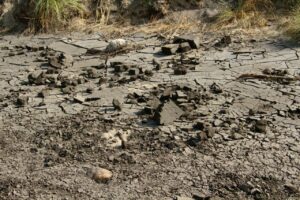 In September, when the trail was partially re-opened, a layer of 10+ cm of ash lay on top of the sandy stream bed. Artistic hikers created a unique cairn, reminding me of an Inuksuk I saw in the Arctic, but caked ash replaced rock as the building material. This is when the irony of "Leave no Trace," hit me. We ARE leaving a trace on our natural environment that can't be ignored. It is changing the climate and the places we call home.
Climate change didn't start this wildfire in Tucson, but scientists will tell you it was a threat multiplier that made this wildfire and many like it more devastating. Dry lightning in June is not a normal weather pattern in our area, just as it isn't in California in August, when many wildfires started the same way there.
In addition to picking up trash to "Leave no trace," let's start re-evaluating all of our actions that leave invisible greenhouse gases in the environment. How can we not only reduce our emissions, but also do things to remove carbon dioxide from the environment? Project Drawdown has many solutions. Some are systemic, requiring your voice to push them forward, while others are actions you can do. You can start by participating in April in the Ecochallenge as an individual, or form your own team! Together we can move beyond the "Leave no trace," mentality to "Reduce those trace gases!"
Author
Betsy Wilkening, educator and PEI Ex-Comm Member from Tucson, Arizona, USA. We are the third fastest warming city in the U.S., and I'm committed to acting in my personal and professional life to combat climate change.