Authors: Louise Huffman and Bill Grosser
As we all know, scientists are telling us that climate change knowledge and action are urgently needed to avoid worst case scenarios from a warming planet. At the 2019 AGU (American Geophysical Union) Conference in San Francisco, CA, two PEI members, Louise Huffman and Bill Grosser with climate researcher, Dr. Erich Osterberg, led just such a workshop for about 20 educators during the GIFT (Geophysical Information for Teachers) Workshop.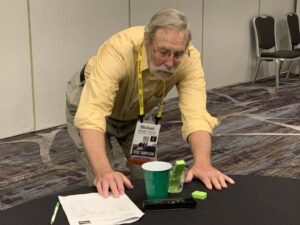 Prior to the workshop, with National Science Foundation funding, Bill worked with Louise to create three new labs for the Ice Drilling Program (IDP). The labs lead students through an inquiry lesson in which they collect CO2 and isotope data from "samples" of ice cores. After creating graphs of their data, students participate in scientific argument using sentence starters like "Our data suggests…" Once they are thoroughly immersed in the graphical interpretations of their data (which just so happens to model the graphs of real data) they look at the real 800,000 year record of CO2 and isotopes from ice cores collected in Greenland and in Antarctica. These new labs have been field tested in several classrooms and the science content has been validated by scientists.
The teachers at the GIFT Workshop were enthusiastic about the new labs and many indicated they were looking forward to using them in their classrooms.
Y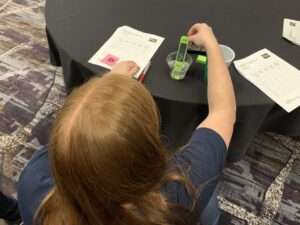 ou can access the labs at:
Decoding Ice Cores—Lab #2: Atmospheric Analysis—How much carbon dioxide was in the atmosphere in the past?
Decoding Ice Cores—Lab #3: Isotopic Analysis—How warm was the Earth in the past?
Check out other climate change and ice core science activities and labs at icedrill-education , and we look forward to adding Decoding Ice Cores—Lab #1 in the near future which introduces students to climate records in ice cores, sediment cores and tree rings.
Authors' Bios:  
Louise Huffman was a classroom teacher and is currently the Director of Education and Outreach for the US Ice Drilling Program at Dartmouth College.  Since 1990, Louise has been deeply involved in working to bridge the gap between science research and classrooms. She is a former president of PEI and a founding member of the organization. Currently she is on the PEI Council and is leading the committee to create an updated version of the International Polar Year (IPY) Polar Resource Book.
Bill Grosser has been involved in Chemistry, Physical Science, and Earth Science education as both a NBPTS teacher (Natl Board for Professional Teaching Standards) and administrator for the past 30 years. Bill believes in the power of bringing STEM professionals together with students and K-12 teachers.  Bill has organized "climate summits" to connect climate researchers with communities.  He was also instrumental in developing programs such as the "Next Gen STEM"  conferences that connected high school students involved in independent research with college professors and industry STEM professionals. Bill is a member of PEI.