Taking science classes outdoors enriches science curriculum and builds student enthusiasm as well as science skills! Doing field work as a PolarTREC teacher (Climate Change and Pollinators in the Arctic 2016) enriched my life and, in turn, my classroom. I have translated my field work into vastly expanded outdoor education opportunities for my middle school (sixth, seventh, and eighth grade) students, offering authentic class-time and extended-time field experiences. I am able to offer in situ lessons specific to the curriculum, such as soil and water science, as well as skills development using the environment as our classroom. While I am fortunate to have green spaces on campus and an adjoining city park, outdoor lessons can be tailored to almost any outdoor spaces. Students respond enthusiastically to out-of-the-classroom activities, especially when they can make observations outdoors. Over the course of several years, we have planted pollinator gardens, including a pond full of native species, to serve as our outdoor classrooms.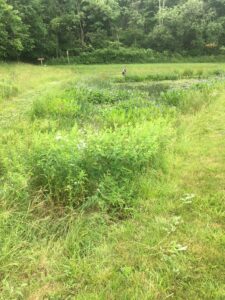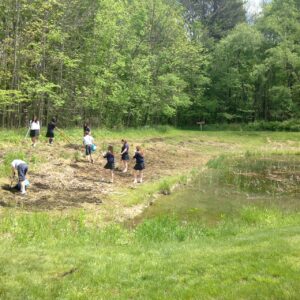 One means of building authenticity into outdoor observations is to require that students document environmental conditions just as field scientists do. My soil, seasons, and water lessons are all constructed with a heading to document air temperature, cloud cover, recent precipitation, and wind speed.  For these I used a little grant to purchase a Kestral Meters just as my PolarTREC team used daily when collecting data in Greenland. When teaching students to think like scientists, it is valuable to help them act like scientists too!
Another way to develop student scientists is to let them collect data that not only illustrates curricular goals (e.g., types of soil or phosphates in freshwater) but also to help them collect reliable data that they can use to work on analysis skills. My sixth grade students work on accuracy of measurement in the classroom and in the field, culminating with the measurement of trees (circumference and height) to calculate carbon storage, relating soil science, biology, and climate change (Rainforest Alliance).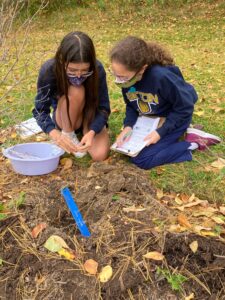 Seventh graders use insect traps to collect samples to learn taxonomy and investigate biodiversity (lesson article). They use water samples to do chemical tests (nitrates, phosphates, pH, turbidity), relating chemistry to ecology and contributing to citizen science initiatives and environmental stewardship. Eighth grade students trace water management on campus, relating downspouts to drains, ditches, and the movement of water off of human-constructed surfaces and through the watershed (Earth Partnership for Schools) and relate these to what is happening in their own neighborhoods.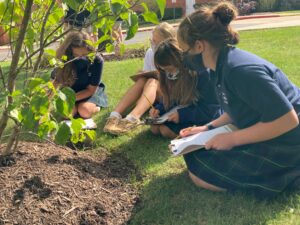 Developing students' basic understanding of the Nature of Science (NOS) requires varied experiences and opportunities to ask questions, conduct investigations, identify variables, and use data. Collecting accurate data is a start, and the ability to use outdoor resources increases student engagement while constructing their basic science skills. Especially after a period of distance learning, however, they are often not confident, seeking assistance in scaling graphs and properly labeling them, as well as interpreting them, relating variables, and identifying patterns. The opportunity to use environmental observations, coupled with effective scaffolding, provide relevant and intriguing circumstances to hone these skills. Likewise, effective scientific communication is a challenge for all students, as is the use of evidence to support claims. My students are thus able to practice evidence-supported argumentation based on their own experiences and observations. They do this when, for example, they compare and contrast seasonal data, explore the causes and effects of introducing invasive species into ecosystems, and investigate the distribution of insect species in different habitats.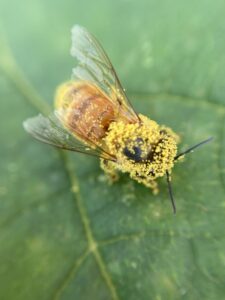 Using outdoor spaces for science also opens the door for multi-curricular connections, building STEAM experiences. Working with the language arts teachers, our students work on their descriptive and analytical writing skills. In their science classes, sixth grade students collect observational data in different seasons of the year, using those to write a descriptive compare-contrast essay in their English classes. The seventh graders fulfill a cause-and-effect standard in both English and science by relating their experience at a national park to research about invasive species, elaborating on the devastating consequences for ecosystems. In both instances, curricular standards are met in both the science and language arts classrooms.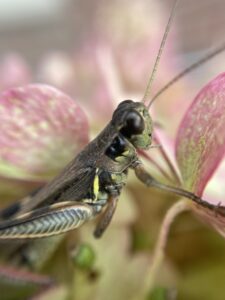 In addition, I've been able to encourage student self-expression through drawing and photography. Students make detailed drawings of natural objects, encouraging them to look with care and see details they would not otherwise have noticed. Moreover, I was able to use a little bit of grant money to buy Easy-Macro lenses that wrap around smartphones. It fills students (and me!) with wonder when they zoom in on insect wings, bees covered with pollen, etc.! Not all students have a smartphone, of course, but working together, a few phones is enough to make and document careful observation. I was even able to introduce a photo essay project this year, giving students the chance to expand self-expression through this artistic medium.
Most importantly of all, when students have a personal relationship with the natural world, they build the connections that are necessary for them to understand its value and to embrace environmental stewardship. The gift of relationship with nature establishes the power for responsibility to nature.
Author: Anne Farley Schoeffler, PhD, is a PEI council member who teaches 11-14 year old students at Seton Catholic School in Hudson, Ohio USA