It is late August. The water and air are still at 6 am and we find ourselves standing on a dock looking at the lake we are about to swim.  Everything looks like glass as we dive in through the warm top layer of Poccasset Lake in Wayne, Maine.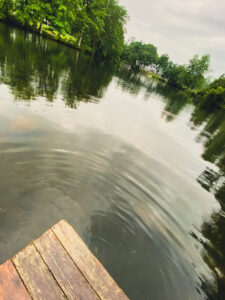 The only reprieve from the heat of the water we will have comes in the form of cold water springs throughout our two mile swim at this time of year.
Open water long distance swimming gives the gift of time, time to think, reflect, and plan about a number of things.  I find myself with the impending school year fast approaching swimming and  thinking a lot about the relevancy of polar education to the lives of Maine students and citizens and how I can refine courses to promote future stewardship of polar regions. I am fortunate to have been given an opportunity that will assist me in this endeavor.
I am a 2020 PolarTREC educator, one of the COVID cohort.  Many of our expeditions were postponed, the result of the pandemic. The gift is the extra time given to learn and develop courses and materials about polar regions.  The Greenland Subglacial Tremor Project goals are related to improving understanding of surface runoff, influences on ice flow, and loss of water mass from the Greenland ice sheet to oceans and how this impacts sea level rise.  My job as the teacher on expedition is to relate this work directly to students and citizens.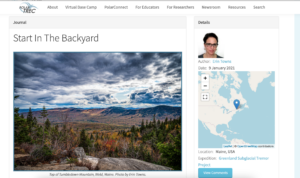 As a social studies educator, this gave a unique opportunity to create an interdisciplinary course that directly relates to the expedition and environmental, economic, and political life in Maine, the United States, and the World.  For more information about direct ties between the Arctic and Maine, I invite you to read the PolarTREC journal article, Start In The Backyard.
Last year I designed and taught an interdisciplinary course called Geopolitics of The Arctic.  The course combined studies related to Arctic climate change and its impact on environmental, economic, and political life in Maine, the United States, and the world and employed visual art standards as a means of bringing content to life.  Specific units of study included a skills based Visual Arts Introduction (digital and drone photography, visual notetaking, geographic information system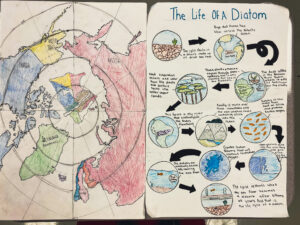 technology, scientific modeling, and storytelling), Geography & Defining The Arctic, Arctic History and Exploration, Earth Systems, Glaciers 101, Sea Level Rise, Arctic Biodiversity, Arctic Natural Resources, Indigenous Peoples of the Arctic, Arctic Geopolitics and International Relations, Arctic Maine Connections, Arctic Related Issues (sea level rise, extractive industries, permafrost, sea routes, environmental regulation, anthropogenic climate change), and International Arctic Strategies.  The culminating final project of the course was an Arctic Council Simulation.
Obstacles included my own lack of knowledge about some of the science based content, so resources used included a host of experts who were invited in to teach us all from the University of Maine Climate Institute, The Gulf of Maine Institute, and the University of Southern Maine.  Students were able to hear from Maine US Senator Angus King, one of two founding members of the Senate Arctic Caucus during a direct Zoom presentation they set up and hosted for six Maine schools.
Swimming along I think about how to refine the course, what worked, what needs work.  This year will provide opportunities to refine and improve upon lessons learned from last year.  Greater emphasis will be put on strengthening knowledge of direct ties of the Arctic to local and state economy and politics.  If students do not have tangibility linked to their surrounding world, the chances of them really seeing the importance of polar regions to the planet.  Out of sight, out of mind.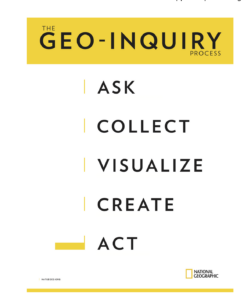 The year begins again, starting local and working out from there as outlined in National Geographic Education's Geo-Inquiry Process which will serve as the basis of everything we are doing this year.  Updates to come and hope you will join us for more of the story as it unfolds.
Erin Towns is a 2020 PolarTREC educator and social studies teacher at Edward Little High School in Auburn, Maine, USA.  Erin is interested in Arctic interdisciplinary curriculum development for high schools around the world and promotes inclusion of more topics related to Arctic climate change, geopolitics, economic sustainability, and cultural preservation.